PODIATRY SHOCKWAVE TREATMENT
The team at TSMC are very excited to announce that we now provide Shockwave Therapy!
Extracorporeal Shockwave Therapy (ESWT) is a non-invasive therapy used to treat chronic conditions. The conditions we commonly treat in the Torquay clinic are "over-use" injuries.
Historically, this form of treatment was used to break kidney stones into small pieces. Now, for over a decade, it is commonly used for a wide range of musculoskeletal conditions, which induces tissue repair and regeneration. There is a large range of scientific evidence available where it has been proven to be an effective and safe treatment.

As Podiatrists, we treat many common lower limb conditions successfully with shockwave.
Lower Limb Conditions
Heel pain (Plantar Fasciosis)
Achilles pain (Achilles Tendinosis)
Shin splints (MTSS)

Morton's Neuroma

Non-union fractures

How ESWT works
Increases blood flow and healing factors to the area

Improves range of motion/flexibility

Alleviates pain

Improves function
Process
We recommend shockwave therapy when an injury hasn't responded as expected within 4 weeks to anti inflammatory treatment (icing, rest, compression, off-loading..). We prescribe shockwave therapy as an adjunct to an overall m
anagement plan, while addressing the causative factors as to why the injury occurred and why it has not healed.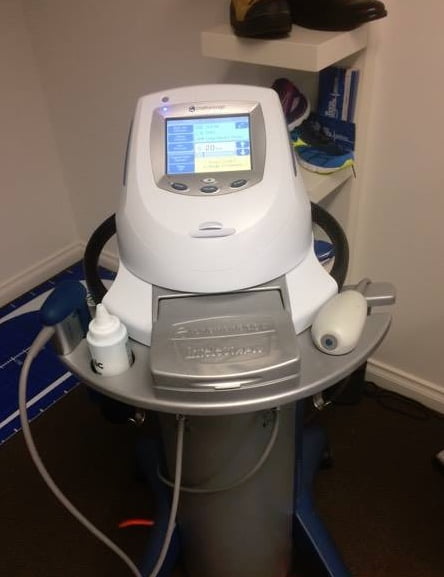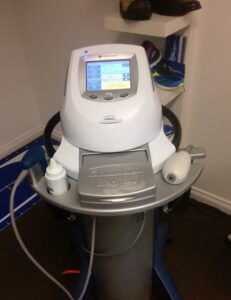 The treatment consists of 4-6 treatments over a period of 1-2 months. Generally, we expect to start seeing a reduction in pain levels after the second treatment. An additional benefit is there is no need to take time off work as you can get back to your normal daily activities the following day.

The name "shockwave therapy" may sound scary, but generally our clients tolerate the pressure well. No electricity is emitted through the probe, but rather radial shockwaves (high energy sound waves) pass through the skin to target the underlying tissues.
Cost
To make this therapy accessible, there is no additional fee for shockwave treatment. It is included in the cost of your regular podiatry appointment!
We are very excited to have this treatment available on the Surf Coast and look forward to helping yourself, friends and family.
If you have any further questions regarding Shockwave, please feel free to email me at [email protected]. To make an appointment call our clinic on 52646 098 or book online with our highly trained podiatrists. 
Team TSMC.