Remember that high of crossing the finish line of a run you have been training for for months?
We are all missing it.
In the clinic, we have been reflecting on what our clients have achieved over the years. We don't always get that chance as we are too focussed on the next thing. Now is a great time to slow down and appreciate what we have been able to accomplish.
One of our clients Leo, recently shared his favourite running moment with us which stood out!
Leo won the Warrnambool Marathon in 1993. He is a very committed runner and has been consistently running for 45 years.
We picked his brains on all things running and that moment in 1993…
"What did it feel like to win a marathon?"
To win my home town marathon in Warrnambool in 1993 was so satisfying. We lived in Ballarat from 1990 to end of '93 for work where I trained in lead up with the Eureka Athletic Club.
I arrived at the start in good condition, although woke up on the Sunday morning with a head cold. I discussed this with my brother-in-law as I was not confident. He told me to forget about it and imagine if I won this in my home town of Warrnambool. The course was particularly hilly, it went from Lake Pertobe in Warrnambool to Koroit and Tower Hill to the finish.
A runner from Adelaide had a clear 2km lead from the start, with a small bunch following some kilometres behind. At the half way point I concentrated on running second, then suddenly the front runner started coming back to us. He pulled out with a calf injury, which allowed myself and a local Warrnambool runner to fight out the finish. We were together for next 15kms. Then 2km from the finish I surged up a hill and that was the winning move! For a month after I could still remember every step, bend in the road, the environment around me and of course my family at the finish.
I ended up winning by 150m in 2hrs 40ms 53secs. I had tears in my eyes entering the home straight where I was greeted by my family and a smallish local crowd. The race was covered by a local radio station happy to be calling the winner an expat of the town.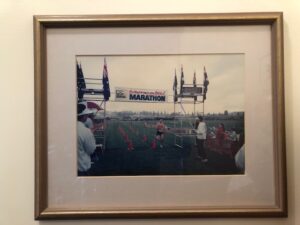 "What motivates you to keep pushing through when you are fatigued/having self doubts?"
Being confident that I have done the training and knowing the feeling of achievement. I always keep finding that little extra even when fatigued.
Running is simply putting one foot in front of the other. Anyone can do it!
"What has kept you running consistently throughout the year?"
Having an individual program and sticking to it and knowing when to back off when fatigued. Having a weekly goal has been important for motivation, especially this winter.
I always get my injuries/soreness seen if not settling. I have a regular Podiatrist, Physiotherapist and Massage therapist at Torquay Sports Medicine that I book in with when I need professional help.
"What is your favourite thing about running?"
The joy of getting outdoors rain, hail or sunshine is very invigorating. All my runs are done first thing in the morning from 6am onwards. I am still running after 45 years!
We hope you can draw inspiration from Leo's story and when we get back to running in events again, we will appreciate it more than ever.
Leo Pye
Running Enthusiast 
Marathon Winner '93