Are you new to trail running? Unsure if you should be wearing trail or road runners? Or just unsure of where to start?!
It can be a daunting task to find the perfect shoe for the trails. It all comes down to your individual needs, so we have put together a guide to help.
Firstly, how do trail shoes differ from road runners?
Rugged and grippy sole

Generally feel firmer underfoot and more rigid

Smaller range

Mostly neutral but some corrective options

Harder wearing upper
Secondly, factors to consider when purchasing:
Feel (soft/hard)

Fit (width and length) – Ideally thumb width from end of toe to end of shoe

Offset (heel to toe drop) – Depending on injury you are safe to go a few mm less than your road runners due to the variability of terrain. Or to play it safe for your first pair and stick to the same offset.

Correction (neutral/corrective)

Tread (light to rugged) – Some treads are better for hard-packed dirt and rocky terrain, others for mud and soft ground.

Distance (5km to Ultra)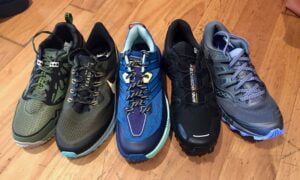 Consider the type of trails you generally run on and that will lead you to the best tread. If you run on a combination of road and light trail (eg. gravel) you will be okay with a road runner. A good example would be the track from Torquay Surf Beach to Bells. But if the trails are more technical and generally wet or muddy, I would recommend a trail runner. A Gortex upper is generally not ideal for running due to its limited breathability and it tends to hold moisture.
I've summarised the most popular trail runners below and attempted to order from lightest to technical trail.
Light
Name
Offset
Correction
Notes

Brooks Pure Grit

4mm

Neutral

Light weight, lower offset

Nike Pegasus

10mm

Neutral

Light and cushioned, feels more like a road runner

Good hybrid for road/trail

Asics 2000

10mm

Midfoot

Flatter lugs, corrective

Good hybrid for road/trail

Hoka Challenger

5mm

Neutral

Lighter Hoka, more mesh

4mm lugs, Soft feel

Mizuno Rider

12mm

Neutral

Flatter lugs

Gortex upper
Middle 
Name
Offset
Correction
Notes

Nike Wildhorse

8mm

Neutral

Saloman Sense Ride

8mm

Neutral

Cushioned, lighter salomon

Middle range terrain

Quick Lace system (like lock laces)

La Sportiva Kaptiva

6mm

Neutral

Ideal for mountain running and steep inclines 

Slip on construction upper – firmer fit

Brooks Cascadia

10mm

Neutral

Middle range

Good starting point for more technical trail

NB Hierro

8mm

Neutral

Cushioned (higher stack height)

Hoka Stinson

5mm

Neutral

Middle range lugs (4mm)

Cushioned (higher stack height)

Hoka Speedgoat

4mm

Neutral

Cushioned (higher stack height)

Good trail all rounder

La Sportiva Bushido

6mm

Neutral

Light weight

All rounder for trail – good traction and cushioned 
Technical 
Name
Offset
Correction
Notes

Saucony Peregrine

4mm

Neutral

Longer lugs (6mm) for technical trail

Softer upper

Asics Fuji Trabuco

8mm

Midfoot/rearfoot

Longer lugs, chunky

High traction – good for muddy conditions

Salomon XA

11mm

Neutral

Good protection for rocky conditions

Strong upper, firm feel

Shorter lugs, quick lace

Mizuno Daichi

12mm

Neutral

Michelin rubber for rough terrain

Firm feel

Salomon Speedcross

10mm

Neutral

Muddy/soft terrain, rigid sole

Strong upper, longer lugs

Firm feel, quick lace
If in doubt, remember comfort is king! We always recommend going to a professional fitting footwear store like The Running Company, The Happy Runner or Active Feet as they can help guide you in store and have loads of knowledge.
I hope this information helps you choose the best shoe for your trail running adventures! If you have any specific questions, please do not hesitate to contact me or follow this link to book in for an assessment.
Maddie McMahon
Sports Podiatrist