Most of us know and understand the benefits of keeping active for our overall mental and physical wellbeing, but understanding is not always enough motivation. We have noticed a trend with clients finding it hard to find the motivation to exercise over the last few months. It's something I have I've personally been struggling with myself as well, so I wanted to share a few tips that have been helping me recently.
Tip 1 – Break up your work-from-home routine

Instead of spending all day at the computer getting stiff and sore and losing motivation, try breaking it up
Do a session in your lunch break
Do a set of exercises every 30mins (i.e. 30mins work, 10 push ups, 30 mins work, 10 squats, 30 mins work, 10 lunges… and so on).
It's a great way to prevent the neck and back getting stiff from hours stuck in the same position (also increasing the oxygen to the brain helps with productivity!!).
Tip 2 – Exercise with a friend (two or four legged!)

Keep yourself accountable by scheduling in a weekly walk/run with a friend or a regular Zoom work out from your local gym
If this is not possible, pick a time and check in on a friend to remind them that you both need to exercise. Even the act of talking about and planning exercise with a friend makes you more likely to follow through with it.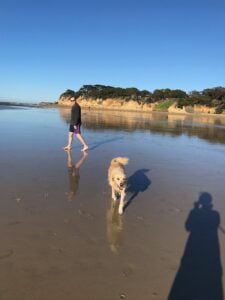 Tip 3 – Do something you enjoy doing!

Whether that's gardening, walking, basketball, yoga or dancing around your living room like a lunatic! Do whatever makes you happy. It's the most important aspect of continuing physical activity, it's got to be enjoyable for you.
(PRO TIP- There are some awesome resources online showing drills and skills that you can practice on your own that are specific to your sport, so get connected on social media with your local sporting organisations and see what videos and training programs they have available to you)
Tip 4 – Set a SMART goal (Specific, Measurable, Attainable, Relevant, Timeframe)

Don't just tell yourself you want to run 10kms. Be specific eg) I will run 10kms without stopping by 6th August 2020. I will do this by running twice a week on a Monday morning and Thursday afternoon and will complete a strength program once a week on a Saturday morning.
Tip 5 – Put it in the calendar/diary

This way the excuse of 'I forgot' is no longer applicable. It may work that you put in times where you would've normally exercised (i.e. you normally play soccer on a Sunday at 10am so that's a good time for you to exercise).
Good luck with your endeavours, remember to be kind to yourself during stressful times and if you need any help at all with goal setting or improving your motivation then please get in touch. There's nothing we enjoy more than seeing our community getting active and reaching their goals!
Darcy Meesen